Acumen by Association Analytics
Make more informed decisions with data insights
Acumen is a cloud-based tool for data analytics and business intelligence (BI), created by Association Analytics, experts in member data. While there are many business intelligence solutions on the market today, Acumen is uniquely positioned to serve the association space. When you connect Acumen with Wicket, you can easily visualize data from all of your different sources and start understanding your members. 
---
World-class data visualizations
By connecting Wicket with Acumen, you can unlock the power of visualizing forecasts and historical trends to help you keep tabs on how your association is performing. Acumen can give you real-time visual reporting on your members' activities, as well as a 360-degree view of their membership with you. You can work with data visually at the speed of thought, rather than at the speed of sifting through complicated data sets.
Built for everyone on your team
Whether you're running events, or managing marketing, having access to learn through data is a key component in ensuring success. With Acumen, each role has access to view the data that makes the most sense to them. How might this look? A marketing manager can track which avenues are generating the most return per spend. An events organizer can track registration trends over time to better understand which channels to optimize. To each their own, just how everyone likes it.

Drill down on your data
Often, looking at membership at an aggregate level isn't very useful when you consider how each member segment has their own unique needs. From a communications, marketing, and sales perspective, being able to understand members by their types, geography and interests makes a world of difference when it comes to personalizing content for them. With Acumen, getting down to the specific slice of information you need for deeper analysis is made easy by the ability to drill up, drill down, filter, add in more data sources, or create multiple visual interpretations. Member engagement scoring will also give you a quick view into your most and least engaged members.

The key to understanding your members
When Wicket and Acumen work together, you get a holistic understanding of your member data. With every data feed looped into Wicket in near real-time, you can then power that data into intelligence by moving it into Acumen. Never underestimate the value of a clean source of data, paired with an intelligence tool to slice and dice it. The possibilities to make more informed decisions, as well as stay on top of trends and patterns are virtually endless.
---
When you combine Acumen and Wicket, you'll get it all:
Visualize all your member data at the speed of thought
Purposefully segment your data to deliver personalized content
Give your teams a powerful way to gain the intelligence that they need
Start with a single source of truth from a data level, and gain insights on it from there
---
Acumen and Wicket in Action
As your Member Data Platform™, Wicket will be your single source of truth for data across all of your member touchpoints.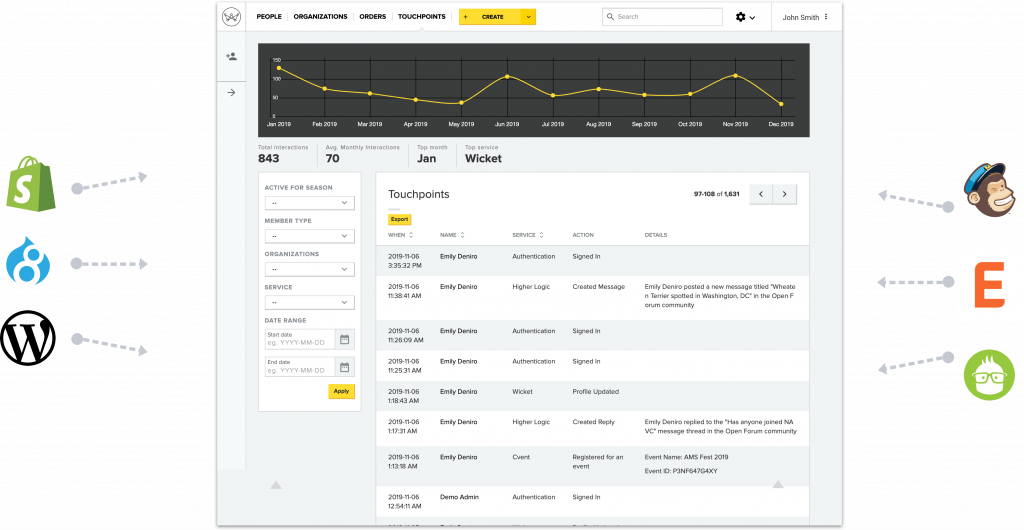 ---
Using Wicket's API, connect your data source to Acumen to ensure your data is always up-to-date.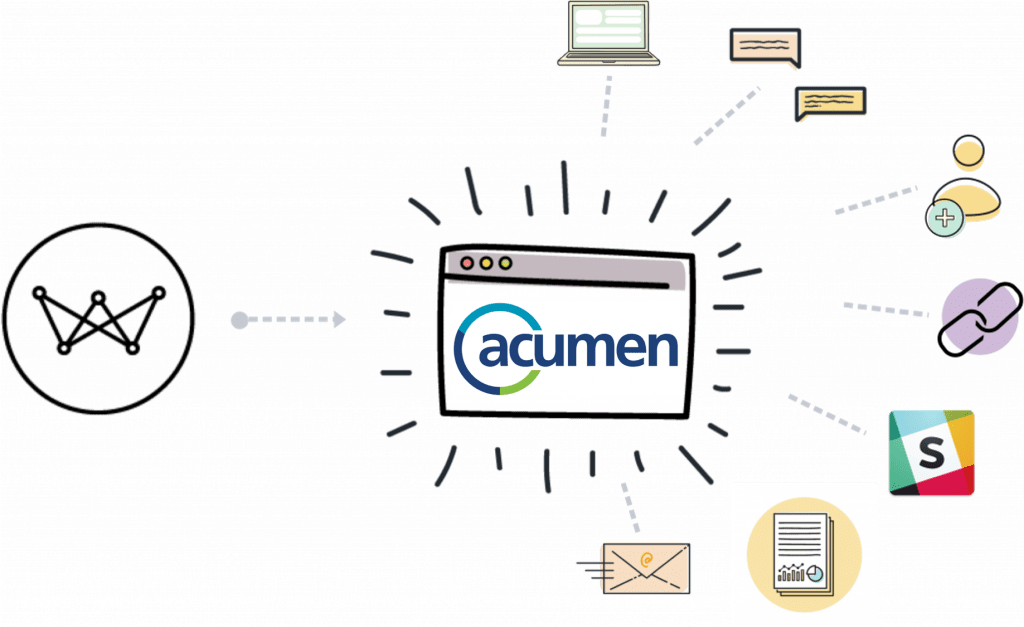 ---
Build customized charts and graphs from your data to easily identify trends, patterns, and outliers.

---
Share real-time or snapshot data in any way you'd like to with your team. You can also share it with your members.