Tired of cookie-cutter, 'all-in-one' solutions?
That's why we offer something refreshingly flexible.
Simplify your Member Management
Managing your contacts, organizations, and memberships should be easy. At Wicket, we believe you should have the flexibility to store your members the way that works best for you and the simplicity to uncomplicate member management.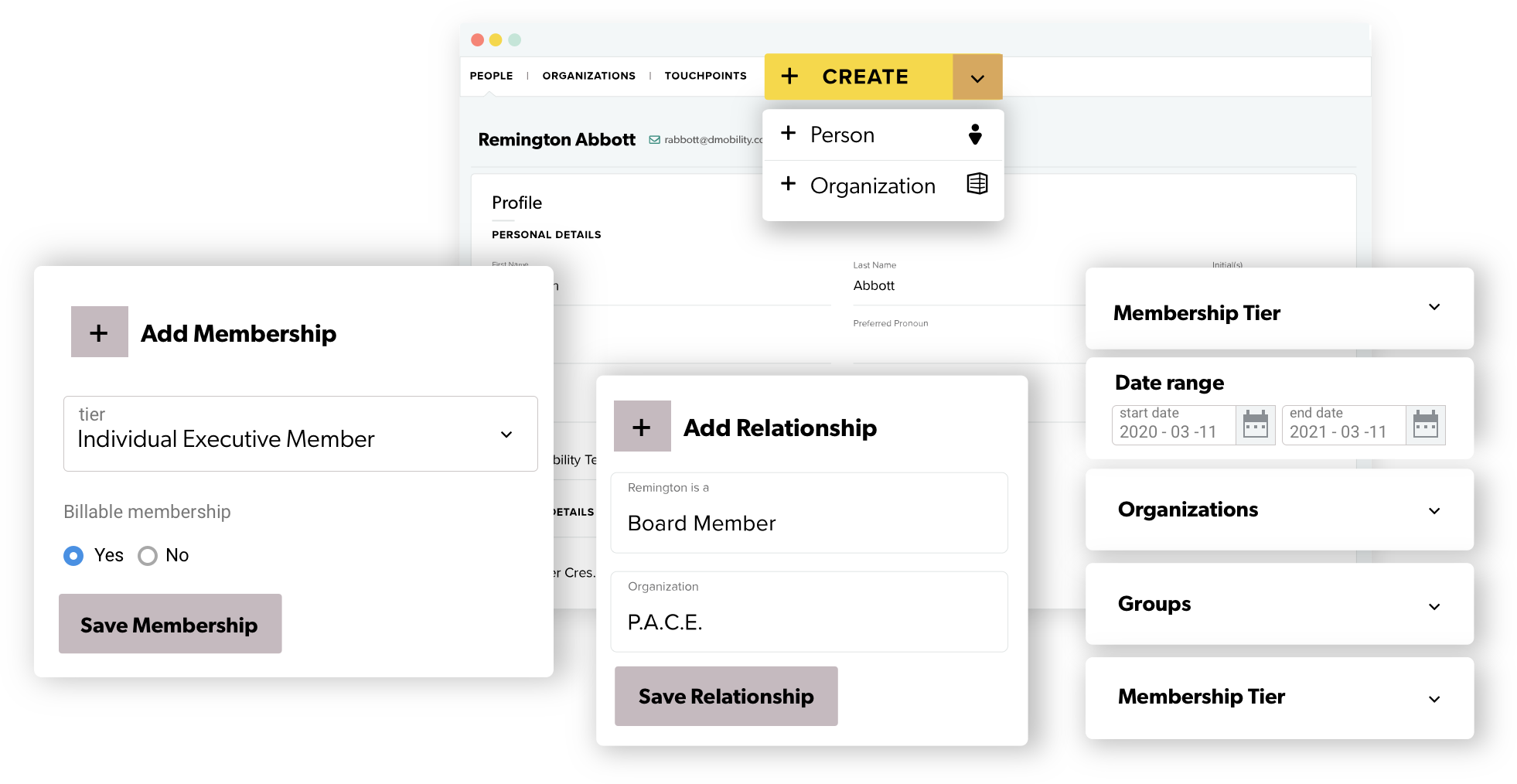 People
Wicket will store all of your contacts as people in your member database. You can store multiple types of contact information, set preferences, and write comments on each.
Organizations
In Wicket, you can manage all of the organizations you interact with. Store corporate contact information, custom data, and create relationships between organizations and contacts.
Relationships
People tend to have relationships with one another or with one or more organizations. Our Relationships feature lets you track person-to-person relationships, employment history, committee membership, education history, and any other type of relationship.
Memberships
In Wicket, you can create flexible membership tiers that are specific to your organization. Once you've set up your tiers, you can then assign each type of membership to the people and organizations in your database. 
Custom Fields
No two organizations are the same, and you have custom data that you want to store on your contacts and organizations. Wicket has a remarkably powerful custom field engine, including the most complex branching logic you can dream of.
User Management
Wicket has a robust user management system that gives you the power to assign login information and roles/permissions to your contacts and your admin staff. 
Comprehensive Search
Finding a contact in your database should be fast and easy. Our powerful search lets you quickly find a contact or organization. Regardless of how much data you have, Wicket's search is always fast.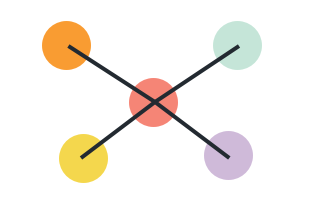 Transform with a Unified Member Experience
Wicket can help you create a seamless member experience. With single-sign-on (SSO), your members only need one login to access any of your touch points. As your single source of truth, members only have to update their profile information once and Wicket ensures that updates are synched to the rest of your tools.

Single Sign-On
Tired of your users needing to juggle multiple login accounts? Wicket makes login simple by providing you with a single sign-on tool that can log you and your members into any software or website that you use, all with a single login account for each user.
Central Hub
Wicket is your central hub that connects all of your integrations; it syncs data to and from all your member-facing touchpoints. When members update their profile information in one tool, that's automatically synced to Wicket and the rest of your tool-suite as well. 
Embedded Onboarding & Renewals
Wicket makes onboarding new members and renewing existing ones seamless and smooth. We embed directly into your existing website for an on-brand experience and provide a flexible, step-by-step process for your members to renew with ease.
Automate your Membership Billing
Create the membership payment structures that work best for you, onboard members with an improved experience, and track payments and refunds with accuracy. Wicket seamlessly integrates with subscription billing platforms which will handle all the invoicing, reminders, and payment processing, which are written back into Wicket as Touchpoints.

See how membership billing works with Wicket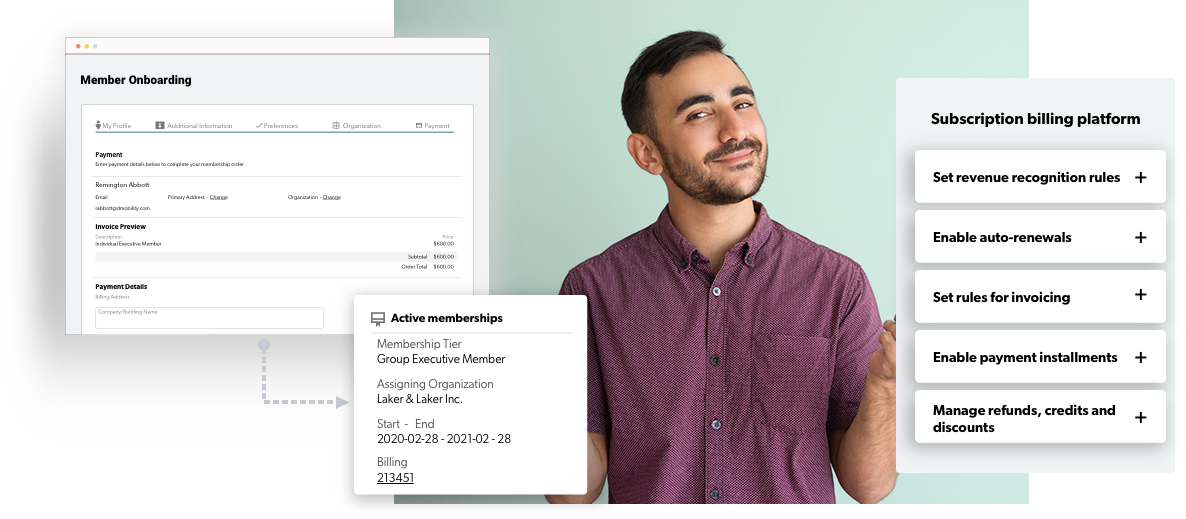 Automated Billing
When you integrate Wicket with a subscription billing platform, you can start automating many of the manual billing tasks you're doing today. Invoices tailored to the member, payment reminders, tax calculations, and revenue recognition can all be automated.   
Auto-Renewals
The subscription billing platforms that integrate with Wicket offer substantial time savings by enabling auto-renewals for your memberships. By allowing members to opt into auto-renewals, you'll be saving staff time in processing yearly dues and securing future revenue. 
Flexible Membership
The world of memberships is changing- is your organization ready? Wicket gives you the power to offer traditional annual membership while also empowering you with a subscription system to allow you to experiment with new approaches to monetizing your member benefits.  Learn more about how subscription billing platforms can help you grow. 
Security
Wicket only integrates with billing platforms that store information in PCI Level 1 compliant systems. Setting up recurring payments is a critical step in automating membership billing, and with Wicket's integrated subscription billing platforms, your members can be assured that their payment info is always secure.
Use best in class Integrations
We believe you should have the flexibility to use the tools that will help you to grow without having to face the dilemma of data silos. Data from integrations are all stored in Wicket as touchpoints so you can understand the full member journey.

See our full catalog of integrations.
Comprehensive Integrations
Easily integrate any tool your team needs for events, email, payment processing, online learning, and more. With a broad and growing integrations library, you can use the best-in-class software that helps your organization grow. 
Single Member View
Data from each integration is consolidated within Wicket so that you can still see the full picture of your member's journey, regardless of how many integrations you use. Use the tools you like and still maintain a view of the individual and collective characteristics and behaviors of your members.
Get member intelligence from Data Insights
Avoid disparate member data silos. When you have a single source of truth and all of your data connected, you will see the bigger picture and start focusing on member intelligence.

See how member data works in Wicket.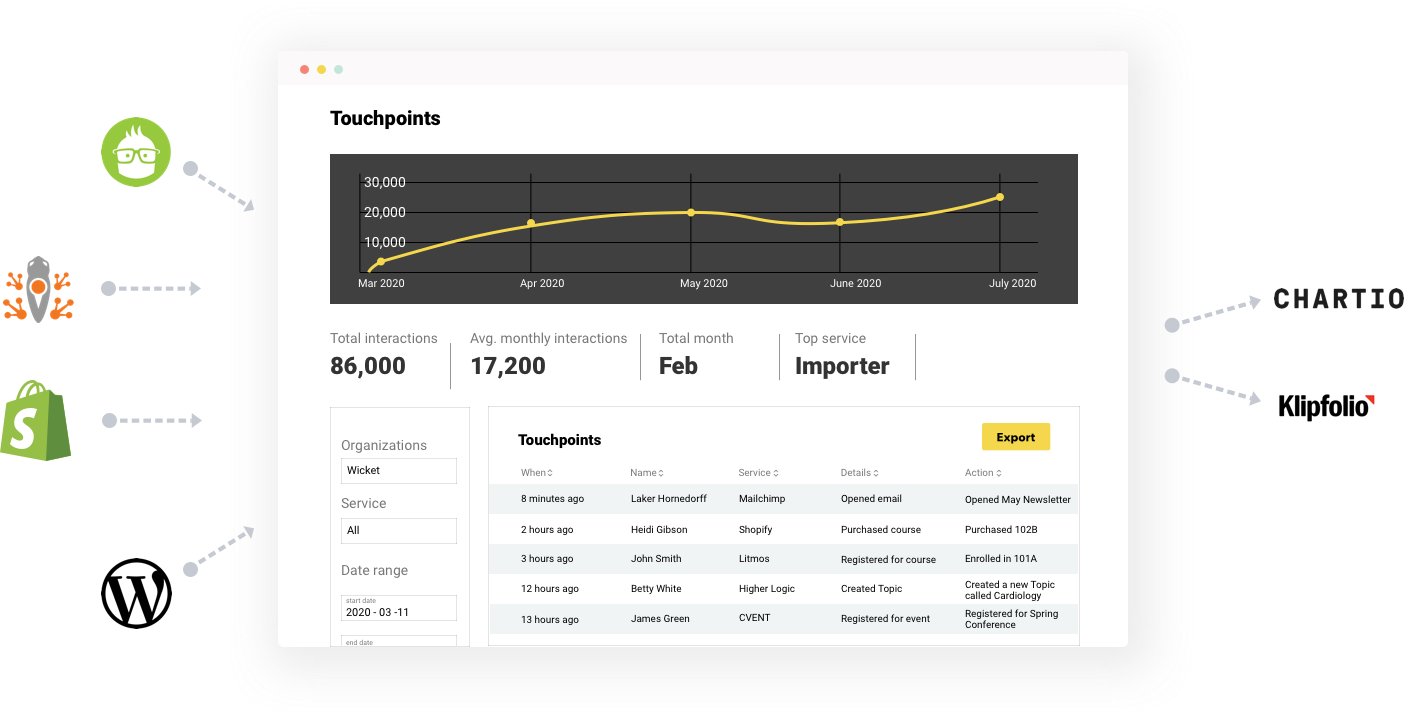 Touchpoints
Do you wish you could see every digital touch of your members across all platforms? We've got you covered. Wicket's Touchpoint feature tracks every member-facing interaction across your website and all the software you integrate with, providing you with a one-stop-shop for measuring member engagement.
Advanced Reporting
Your organization is unique, and so are your data reporting needs. With Wicket, we empower you to create custom reports by integrating with the world's best business intelligence and reporting software. Create powerful data visualizations that are always backed with the accurate data that flows into Wicket.
Basic Reporting
Wicket comes with basic membership reporting ready to go. The ability to analyze your member data based on membership tiers, and compare it against demographic and geographic metrics all come ready to analyze with Wicket.