Say Goodbye to Spreadsheets
5 min read
If an association is using spreadsheets to manage member data it means that they are no longer focusing their efforts on what really matters – more engaged members.
As demographics change and younger generations challenge the old membership model, associations struggle to demonstrate value and justify their existence. Competition is growing, member retention is shrinking and yet, associations must continue to do more with less.
The Problem: Association Management Software
The majority of associations are using an all-in-one Association Management Software (AMS) to manage member data. For years, there have been no alternative solutions to the AMS. They've been the only player in the association space since they hit the market.
With lack of innovation around AMS', associations have been left behind. Software and technology vigorously advance, yet AMS' have made little to no progress. In lieu of this, associations have been forced to make do with makeshift solutions. The most common one being the use of spreadsheets and other third-party software tools that don't integrate with an all-in-one AMS.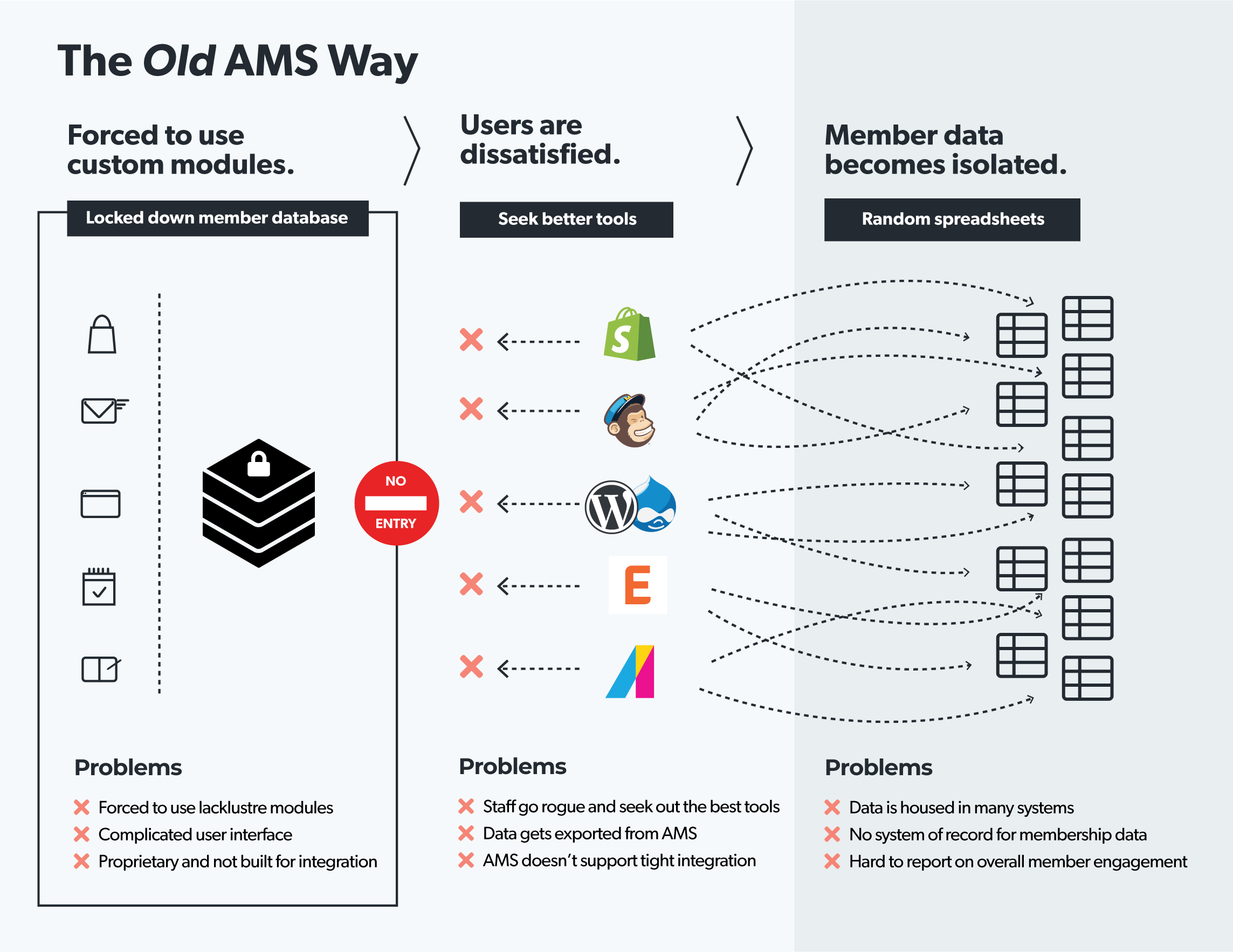 Mediocre modules and the makeshift solution
Third-party tools are used by associations in favor of the modules all-in-one AMS' provide – simply because the modules fall short. Modules in all-in-one AMS' are rarely updated with new, modern features. Associations, to stay up to date with member expectations, needed to jump on the bandwagon. And with the use of their AMS for membership renewals, associations have begun using third-party software and tools.
The two-fold situation associations end up facing is the time-consuming task of reconciling member data from both their all-in-one AMS and third-party tools. Member data is exported from all the third-party tools and put into a master spreadsheet. Exporting data – seems easy enough, but, each third-party tool has a different CSV (spreadsheet) format. Associations then need to reconcile formatting issues of member data to create one master spreadsheet for all member data. Finally – using their master spreadsheet – associations can identify trends and insight to fuel engagement strategies forward.
One might think, why not just use the modules in the all-in-one AMS? The answer is, associations don't want to. Associations want to engage with their members, using the best in class software. As demographics shift, associations need to become more creative with their member engagement and retention strategies. Associations have been cruelly tied down by the weight of time required to reconcile their scattered member data as a repercussion of using third-party tools with their AMS.
Say Goodbye to the past, and Hello to the future for associations
It's time for associations to say goodbye to the overbearing task of managing scattered member data. Data-driven decisions are the future. The only way to accurately manage and analyze member data is to have a unified member record. With the latest introduction of Customer Data Platforms (CDP), associations can now have all of their member's data is in one centralized dashboard.
Wicket is a Customer Data Platform (CDP), better known as the first Member Data Platform (MDP) to hit the market. Wicket is built specifically to help associations better manage and engage their members. Wicket's dashboard becomes an association's centralized system for all member data.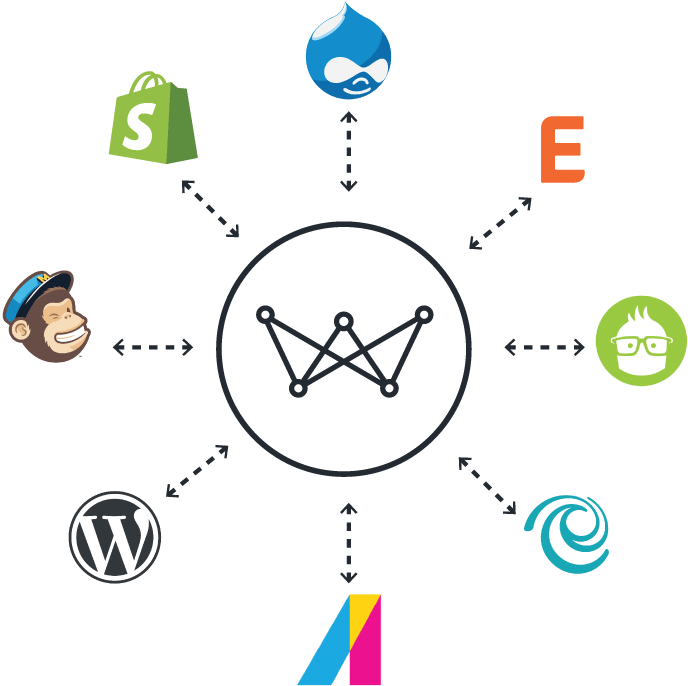 Through Wicket's robust API, associations are able to integrate with third-party software tools. This means no more scattered member data, no more data silos, no more spreadsheets. Wicket integrates with the third-party tools associations currently use, or want to use in the future – synchronizing and updating member data across all, in real time.
With Wicket, associations can get back to what really matters – growing, engaging, and retaining their members. Time is no longer spent managing scattered data. Embrace the way it should be – the Wicket Way.
---