6 steps to successfully introduce your association to a new membership management system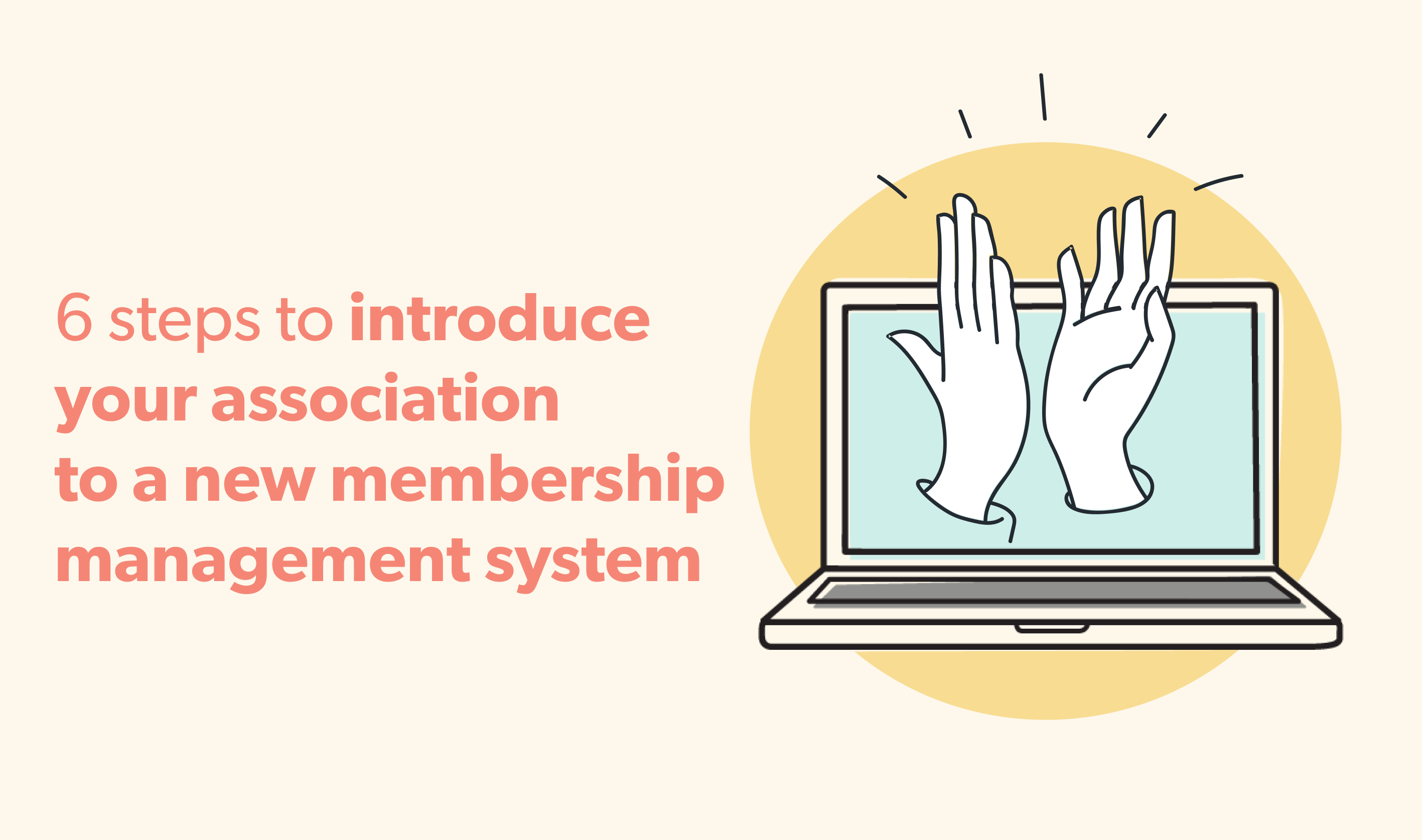 So, you've gotten buy-ins from your leadership team, board members, and other important stakeholders for your new membership management system. Congrats! You've overcome a huge step, but this is only the beginning of your journey.
Your next step will be working out how to best implement the new system. This shift in technology will present different processes and daily functions. The best way to help your association adapt to these changes is to start preparing them early.
Another important step will be getting your team members on board with the new system. People are naturally resistant to change, so it's essential to set up a plan that helps you get off on the right foot and make the process as smooth as possible. Remember that clear, consistent, and open communication is essential whenever you're trying to get people on board with something new.
This process can be broken down even further into the following six steps so you can successfully introduce your association to a new membership management system.
1. Appoint a change champion and project team
The first thing to do is assign a team member to be your "change champion." They will lead the project and work cross-functionally across departments. It is important to pick someone who understands team roles and how the new membership management system will work across these various departments. Bonus points if this person is a natural leader and has the ability to influence others.
The change champion is responsible for putting together an implementation plan that will outline how you adopt the new management system. Their plan should include:
A timeline
Milestones
An outline of people's roles and responsibilities
You should also assemble a project team but keep it small. If there are too many people offering their input, you may find they only further complicate the process. Instead, try to have one representative from each department who will help implement the tool or use it regularly, like the IT, member relations, finance, marketing, and learning development departments.
2. Familiarize your project team with the new membership management system
Next, you will need to ensure the project team understands how to use the system.
Schedule a demo with your chosen vendor and make sure all members of the project team attend. Use this demo as an opportunity to help the team understand more about how the system will help your association as a whole. Just being able to see and visualize the new system will be extremely helpful for the team.
Use this opportunity to explain why you'll be using this system over other options and how it will help the team. You should also reserve some time to answer any questions they may have.
3. Communicate early on about the upcoming change
People adjust to a change more quickly if they have ample warning, so let team members know about the membership management system change early on. This will also give them time to prepare for the shift and ask questions. 
Explain the change, why you're doing it, and how the new software will benefit them. Put forth a vision of how it will simplify daily functions and add efficiencies. For example, Wicket customers will often get excited about the opportunity to choose industry-leading tools to perform specific tasks.
Keep your messaging simple, clear, and concise to make sure everyone understands you. Try not to use complicated jargon or abstract terms and numbers.
You should also consider other ways to clarify this information for your employees. For example, provide a one-pager that summarizes the system's key functionalities and distribute this to the team. You could also host a Q&A session where the project team can answer team members' questions about the new software. The two-way communication can leave team members with the impression that their individual voices are heard and considered in this decision.
Remember to communicate with team members a projected date (or date range) for when the shift will occur. That way, they know when to expect the change and can plan to take any action they need to before you move to implement the new association software. When timelines shift, it's important to update the team so they can adjust their own actions as well.
4. Identify potential challenges
The project team should work together to anticipate challenges that may come up as you shift in this new direction. Here are a few common challenges:
Resistance
One area to discuss is how people will react to the new system. Remember, people are naturally against change because they've already figured out how to make an old system work.
If you have any concerns about people digging their feet into the sand and refusing to change, identify influential team members you can get on board first. These should include your star performers across the organization with good communication skills and respect within your organization. Once these team members have shown a willingness to adopt the new system, the rest will follow more easily.
Learning curve
Prepare for a learning curve, especially for those who aren't as tech-savvy as others. Talk about ways you can help your employees learn the new system. Could you have the vendor give a demo for everyone in the association? Does the system have any onboarding material or resources you can distribute to the team to help them prepare? Would it be beneficial to host a training session for each department?
Changes in daily functions
Another area to focus on is how processes may change for individuals' daily functions. For example, your new membership management system may change how members log in to their accounts. This is an important daily function that will need to be properly understood by team members so they can successfully communicate this to your members.
Communicating how the new system will affect specific tasks will give team members the proper knowledge and confidence needed to adopt these new operations. The more you can get team members to understand specific functions of the system, the quicker they'll adapt to the system as a whole.
Timeline delays
The project team should try to identify potential shifts to the timeline that your change champion previously laid out. Make sure you consider any team members' vacations or other potential risks and delays.
5. Introduce the new membership management system to team members
Once you're close to making the switch and almost ready to launch the new system, you should show team members how the software works. Implement any of the ideas you and the project team discussed to help teach people about the software.
Also, try to make the onboarding process fun for team members. They'll be more engaged with the training and get a better first impression of the system. Maybe make it interactive or host a lunch and learn where team members can order lunch on the company dime.
You should provide team members with documentation on how to use the software. If it hasn't been done already, you can demo the new software in a webinar or pre-recorded video to show how the system works when properly utilized.
People have different levels of familiarity with technology, so you may have to customize their training to match their experience level. If you think some people need more hands-on help to adopt the new software, you can offer one-on-one training sessions to walk them through the system and clarify any doubts.
You should also ensure that team members have clear points of contact if they require further training or need questions answered outside scheduled sessions.
6. Keep the conversation going
After implementing the software, you may be done with the hardest part, but the process is far from over. After all, you need to ensure that people correctly use the software and ultimately enjoy using it so they continue to use it.
Reach out to members for feedback and ask what they like and dislike about the system. Ask if they've found any areas that they think need improvements.
If your team is small enough, try to speak to everyone individually. If you have a large team, consider sending out a survey to get as much feedback as possible. It should include some targeted questions to get specific feedback instead of general opinions. Consider offering an incentive to ensure participation. You could also select a sample group of members representing the team and reach out to these sample members to have one-on-one discussions.
You should also direct team members to the appropriate people for ongoing support. For example, after a new customer completes their onboarding to Wicket, we ensure we introduce them to our Customer Support team. They take it from there, share our library of resources, and explain how to submit a support request.
Maintaining an open discussion and encouraging feedback will make the new system seem less scary to team members. Doing so will also make them feel like a valuable part of the adoption process.
Make sure you take this final step as seriously as the rest. After all your hard work, you don't want your team to make it to the finish line only to turn right back around.
A membership management system that works alongside you
There are many steps involved in switching to a new membership management system, and it can feel overwhelming to make that switch on your own. The good news is when you implement a new membership management system with Wicket's team, you won't be on your own.
When working with Wicket, you're assigned an Implementation Specialist on day one. They will guide you and your team through implementation to launch, working with you to make your organization's shift as effective and painless as possible.
After launch, you'll be carefully handed over to our Support team, who will be available to answer any questions and troubleshoot any issues that come up. They'll be a valuable resource and readily available to you and your team.
Have additional questions about Wicket and how we support associations as they transition to our Member Data Platform (MDP)? We encourage you to book an intro call with us where we can discuss a plan to simplify your membership management system.
---