Is an AMS System different than just an AMS? Yes, and here's why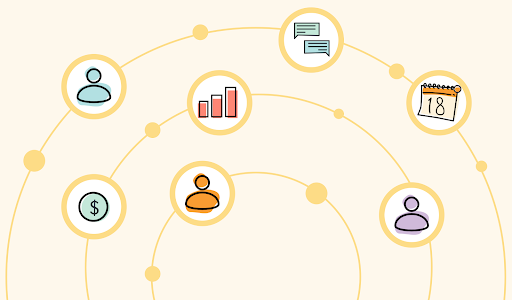 AMS systems help associations run smoothly. They organize your member data, keeping track of critical information, so you don't have to.
But what exactly is an AMS? What should you look for in a new system?
In this blog, we'll break it down for you. We'll define what an AMS system is. We'll also explore six platforms you can consider and the key features to look for in your AMS.
What is an AMS system?
AMS stands for Association Management Software. An AMS helps associations manage members. You can think of it as a member database.
An AMS system is the term used to define a package that combines multiple modules into one platform. Often, AMS providers pack their software with modules that help with most of the association staff's tasks.
An AMS system will cover all the bases and help you:
Maintain a member database
Connect with members via email marketing
Plan and manage events
Accept member dues and offer payment processing
Manage educational offerings with a learning management system
What is AMS software?
Often, people mistake AMS systems and AMS software to mean the same. They use both terms to refer to the same all-in-one solution. Technically, association management software refers to the member management component, while the system encompasses all the added modules.
What are the benefits of AMS systems for associations?
An AMS system can benefit organizations of all types and sizes. The goal of these systems is to help staff manage members and operations more efficiently. However, members can also directly benefit from these systems. Let's dive into a few key reasons.
Purpose-built for associations
Many platforms on the market could help you manage member data. For example, CRMs and Customer Data Platforms are used widely among businesses. The downside of these platforms is that they aren't designed for associations. They don't handle the nuances of membership out of the box. To use these platforms, you may need to customize or use workarounds.
AMS systems, on the other hand, are designed for associations. By default, these systems understand and handle memberships.
Increased efficiency
With an AMS system, you can automate many time-consuming administrative tasks, such as processing payments, sending renewal reminders, and managing member information. Staff have more time and resources to focus on strategic initiatives to help the organization grow and thrive.
Security
A sound AMS system will offer the data safety measures associations need. They'll focus on the specifics of member security. You can expect an AMS to be PCI compliant, safeguarding members' payment information. These systems also have data encryption, password protection, and data privacy.
Member engagement
With a centralized platform for accessing information, members can register for events, take courses and communicate with your organization from one place. An AMS system can help build a stronger sense of community. When members feel connected, and their interactions with you are seamless, it can boost member satisfaction and retention.
Data-driven decision-making
An AMS system provides valuable insights by collecting and analyzing data on member demographics and engagement levels. Access to this data can help identify areas for improvement, enabling you to make more informed decisions.
What is the best AMS system?
Each AMS is different. They all have their strengths and weaknesses. Your needs and budget will determine which system is the best for you.
When shopping for an AMS, it's good to start by considering a broad range of systems. Here are some of the leading systems for you to consider:
Wicket
Wicket is one of the more unique platforms on the list. In fact, it isn't an AMS at all. It's considered a Member Data Platform. While an AMS focuses on being an all-in-one solution, Wicket specializes in helping you manage members. Wicket enables you to manage member data while integrating best-in-class software to meet your needs. It offers the best of both worlds.
Fonteva
Fonteva is a platform built on Salesforce. It aims to be an all-in-one solution and offers member, event, and learning management. It also integrates with a payment processor and any other Salesforce apps.
MemberClicks
MemberClicks is a cloud-based platform serving a wide range of member-based organizations. Their focus is on centralizing your needs into one platform. Their software offers solutions for managing member data, events and learning.
iMIS
iMIS has a legacy of serving the association sector. The iMIS platform first came out in 1991. It aims to offer a solution to organizations with complex requirements. They have a large set of features that can be turned on or off, depending on your needs.
WildApricot
WildApricot is a solution for smaller organizations. It's affordable and serves simple needs well. WildApricot is often a good first step for associations currently relying on spreadsheets. It offers base features, such as payment processing, event registration and website management.
What features should you look for in an AMS system?
The features of an AMS vary widely. Some systems do everything, while others specialize in a core feature set. It is essential to evaluate an AMS system not on individual modules but on its overarching design.
When choosing an AMS system, we think you should prioritize the following:
Ease of use
When evaluating these systems, prioritize the user experience. If a system is easy to use, it dramatically impacts ROI. The reason is that staff can complete a task in fewer steps or in a shorter time frame. As a result, it frees them up to focus on higher-priority initiatives. 
A straightforward system also positively impacts members. When you eliminate any frustrations for members, it helps increase member engagement.
Strong security measures
It's crucial to give security the highest priority. The AMS often stores your members' personal information. Choose a system with robust security measures to ensure the safety of this data. Ensure that the AMS provider you select follows industry-standard security protocols and data protection regulations. These measures safeguard your organization's reputation and members' trust.
Accessible reporting
Reporting is an important feature to keep in mind. When reporting is accessible, it empowers staff to make better decisions. Critical information should always be at your fingertips; accessing data shouldn't need specialized skills. Systems that integrate with leading reporting systems are often more accessible. Explore options that don't have built-in reporting.
Ability to integrate
Many of the traditional AMS systems are closed off. While you can turn modules on and off within their system, you can't integrate them with external tools.
Choosing a system that integrates easily will set you up for success. It allows you to expand and contract your toolset. With this flexibility, you can explore new tech and offer new products and services to members.
Payment handling
When collecting payments, you want to reduce all barriers. That's why evaluating how an AMS handles payments is so important.
We often recommend that our customers consider e-commerce. Modern e-commerce solutions will allow you to sell memberships, products and services in a single transaction. When it's easy for members to purchase, you can expect revenue increases. You can read more about e-commerce solutions for associations here. Remember that this approach requires a system that integrates easily with other platforms.
What's the difference between an AMS system and a digital ecosystem?
An AMS system and a digital ecosystem are two different ways that associations can approach their software stack.
AMS systems offer modules that do everything an association needs. The core of an AMS will handle member data management. Then, you can turn modules on and off to manage email, events, and your website. These systems tend to be closed, so you can only use the modules from the AMS provider. The goal of these platforms is to centralize as many of your tasks into one piece of software.
On the other hand, a digital ecosystem is a connected network of tools from different companies. This method prioritizes using best-in-class software that integrates instead of an all-in-one solution. A digital ecosystem still helps an association with all of its tasks, but it does so with different tools.
Often your ecosystem will connect to a tool like a Member Data Platform (MDP) that centralizes your member data in one place. The MDP will push data updates to all the connected systems, making it easy to manage your suite.
The downside of an AMS system is that individual modules don't stack up compared to purpose-built software. Best-in-class software tends to have a much more robust feature set because the tools are highly focused. AMS systems also tend to be so large that they can be challenging to use.
***
An AMS can be a powerful tool for associations. It can help you engage with members while giving insight into their behaviour. While many AMS systems aim to be an all-in-one solution, it's important not to get too distracted by shiny features. At its core, an AMS should be easy-to-use, secure and have strong integration capabilities. 
Looking to learn more? Check out our Ultimate AMS Guide.
---