Want The Ultimate Guide for Finding Association Software?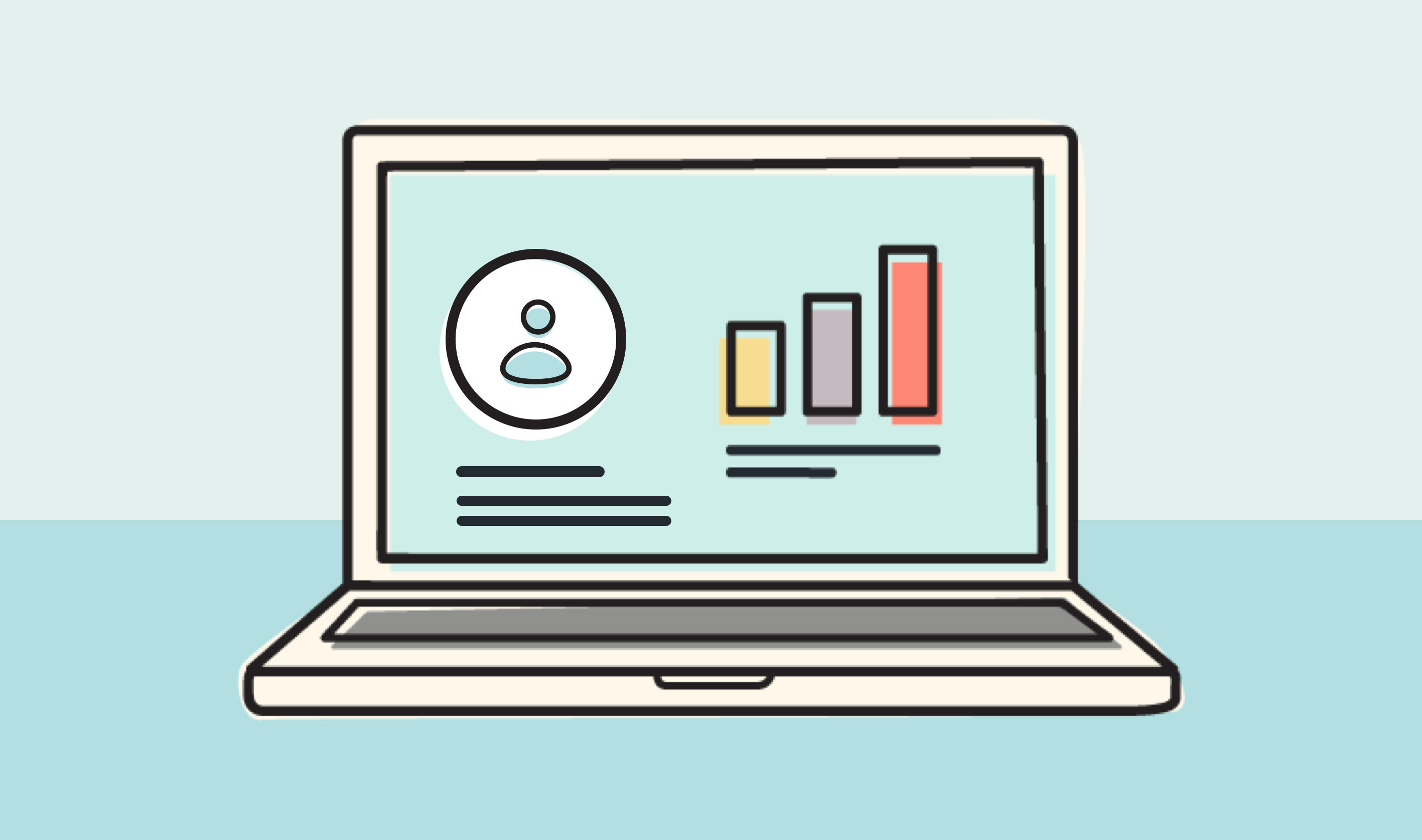 Looking for new association management software (AMS) can feel daunting. Don't get overwhelmed. We'll break it down for you.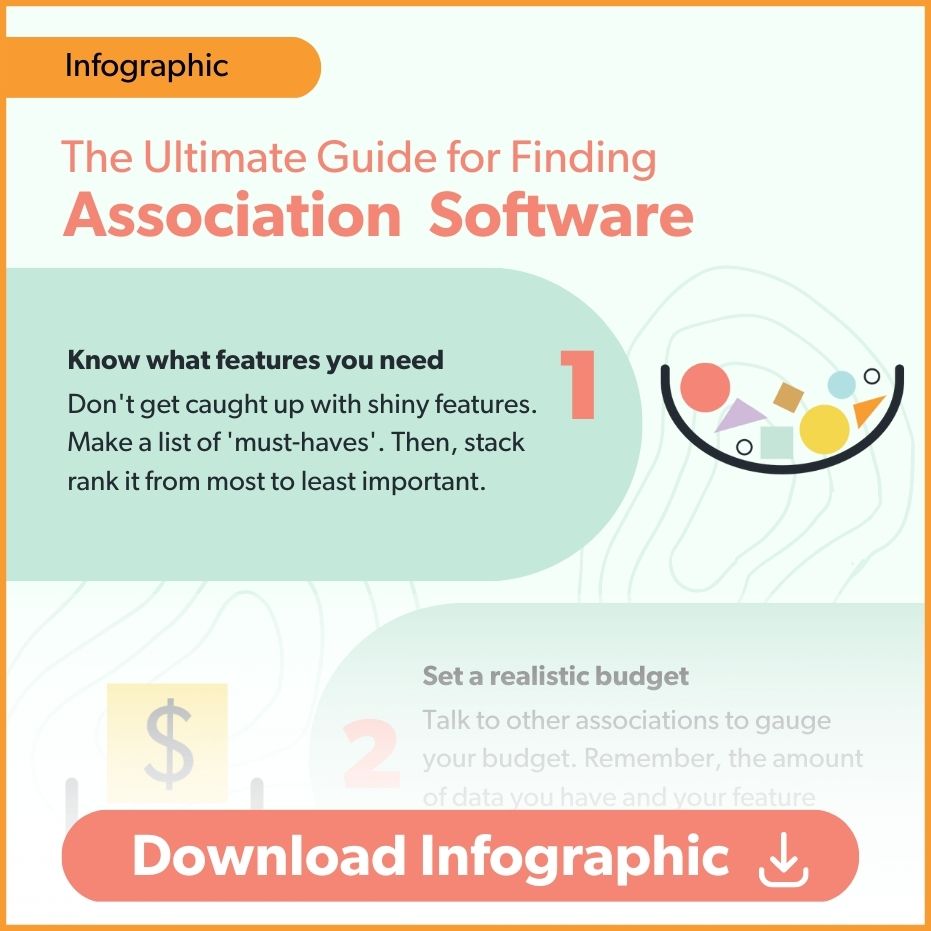 So, what's association management software, anyway? How should you evaluate different platforms? How do you know what platform is right for you? Let's jump in. 
What is association management software (AMS)?
To define an association management system, let's examine its essential function. At its core, an AMS records an organization's membership data. Put simply; it's a database. It will collect all membership info and helps the association carry out administrative tasks.
Association management software platforms usually classify themselves as all-in-one solutions. Some features include sending newsletters and emails to members, managing member profiles and renewals, and tracking payments and invoices. Often these systems handle event planning and registration, including the creation of event pages and ticket sales. In addition, AMS systems usually have reporting and analytics capabilities.
Traditionally, AMS platforms tended to be software you'd download. Today, there are lots of association management online software options. The association management software market size has grown considerably, forcing companies to compete and improve their offerings.
Association management software costs can vary depending on the specific features an organization needs. In some cases, pricing is based on the number of members you have. Costs for association management software in Canada and the United States are vast. Most AMS providers don't publish their prices publicly, so you'll need to contact each directly.
It's important to carefully consider the features and capabilities of association management software when evaluating the cost. Some software may offer a basic set of features. In contrast, others may have more advanced capabilities, such as event planning and registration, member portals, or integrated financial management. The more features and capabilities an organization needs, the higher the cost.
In addition to the initial cost of the software, some providers may charge additional fees for training, support, or customization. It's a good idea to carefully review the pricing and terms of any association management software before making a purchase.
What is membership management software?
Like an AMS, membership management software (MMS) also aids in managing member data. However, MMS systems often focus on membership groups with more straightforward needs. Their customers are often hobbyists or sports groups with simple membership structures.
Often the terms AMS and MMS are used interchangeably. For this reason, you must assess software based on capabilities and not its classification.
Why use membership management software?
Membership management software benefits are wide-ranging. It will help streamline processes, improve your members' experience, and reduce administrative burden.
Simplify member onboarding.
Good membership management software capabilities include streamlining member onboarding and renewals. Many AMSs offer a self-service website feature where members can easily join or renew their membership online. This can save time for administrators, as they no longer have to handle payment processing or manage manual payment methods such as cheques.
Increase event registration and attendance.
As we mentioned earlier, this software often includes an event module. Having the right software to boost engagement at events is critical. Often these systems allow you to create and publish schedules and agendas. They also support marketing and ticket sales.
Get a return on your investment.
Our membership management software tips always include your ROI. You need to select a system that will pay off.
By streamlining the admin tasks, an AMS will help you save time. With that extra time, your team can focus more on member engagement. Member retention is key to the success of any association.
Member management software will also give you better reporting. You can understand what does and doesn't resonate with members. You'll be able to create better marketing campaigns. With your improved marketing, you can grow your member base.
What's the best membership management software?
Top association management software is difficult to pinpoint. Each system has its own set of strengths and weaknesses. To find the best membership management software, start by identifying your needs.
Take an inventory of your needs.
What are your must-have features? What are your nice-to-have features? Seriously, make two separate lists. You can even consider stack-ranking features. Getting caught up in shiny features when you're in a demo is easy. When this happens, critical features can get overlooked. When you have your list in front of you, you can focus on what's important.
Who will be using the system?
Some systems are inherently technical and meant for IT users. Other systems are more accessible. It all depends on your needs. Do you want executives and membership managers to be able to use the system? If so, you must choose a platform with a good user experience.
What are your reporting needs?
Work across your organization to identify reporting needs. It's essential to consider this upfront. You might have to think outside of the box on this one. Not all systems have comprehensive reporting, but this doesn't need to be a dealbreaker. You can always partner with an organization like Association Analytics.
Think about your website.
Often your website is the first place members go to engage with you. When choosing a system, you must think about your website. Some systems have built-in web editors. But, it would be best to consider how easy that web editor is to use. Can you make edits yourself, or will you need to hire someone? If you need to hire someone, is there a large freelance market of developers to lean on? If editing requires specialized skills, you'll pay a premium.
That's why we recommend membership management software that integrates with WordPress. WordPress is easy for staff to use. There is also an extensive network of WordPress developers should you need any custom work done.
Now that you understand your needs, you can match software features to your list. Remember, the best system doesn't exist. It's about finding the best solution for you.
Best Membership Management Software Comparison.
With so many options, how do you make the right choice? As we said above, it's about finding the right solution for you. The perfect platform doesn't exist. That's why we recommend making your own thoughtful comparison.
When making your membership management software comparison, it's vital to consider the following factors:
Features of Membership Management Software
As mentioned above, identifying and stack-ranking your needs is your first step. Once you've done that, you can start matching features to those needs.
When evaluating a system, take note of how it handles:
Member onboarding and renewal
Member database management
Email marketing and member communication
Dues payments, product purchases and donations
Reporting and analytics
Web-based self-service portal or plugins
Event management
Committee and group management
Also, note if the software is cloud-based. Cloud-based software is the optimal choice. Creators of cloud-based platforms can release updates faster and easier. These platforms are also much more secure than their on-premise counterparts. You can use them from anywhere or on any device. When assessing your membership management software options, make sure cloud-based is one of your decision points.
Price
A membership management software price comparison is essential to your research process. Your budget can be a determining factor in which software you consider. Let's go over some tips when considering your budget.
First, talk to other associations. Association management software reviews only go so far. You'll get a better idea of a platform's strengths and weaknesses by talking to your peers. You can also determine how realistic your budget is. If your needs and budget are mismatched, it may be worthwhile to wait until you can afford the right system.
How many members will you have in the system? Knowing this can help you determine costs when speaking with AMS providers. Many systems base pricing on the quantity of data. As your member base increases, your price will also increase.
What if you have no budget? What's the best free membership management software? You'll need a minimum list of contacts for a free AMS. Raklet, for example, has a free option. However, that's only available if you have 50 contacts and one admin. This small quantity is feasible for very few associations.
Integrations
Do yourself a favour and ensure the systems you're considering can integrate. Today, connecting systems is invaluable. It allows you to expand and contract your digital ecosystem as needed. Legacy AMS systems are closed off and are nearly impossible to integrate with. This will be a roadblock when staff want to explore new technologies. Choosing a modern system that integrates easily will give you more options in the future.
Support
When evaluating, think about what could go wrong. How will that provider support you when it does? Do they have good documentation? Being able to solve simple problems on your own is more efficient. You'll need a good set of support articles to do that. Some AMS providers charge support fees. It's important to factor all of this in.
User Experience
The user experience is critical for ROI. If a system is cumbersome to use, it will cause operational inefficiencies. Look at how easy the tool is for admins to use. How many steps are involved in the most common tasks they'll perform?
On the other side, look at what your member experience will be. Is it straightforward for members to log on and update their profiles? Can they quickly onboard and renew? Your member experience should be as seamless as possible.
Many providers of membership management software in the U.S. are prioritizing user experience. Some, however, still need to catch up. UX must be ranked high in your evaluation.
Looking for a full breakdown? Check out Capterra for detailed association management software comparisons.
What's the best membership management software for nonprofits?
For nonprofits, membership management software helps create efficiencies. In addition to collecting dues, these systems will help you engage with members.
For nonprofits, we recommend checking out MembershipWorks, YourMembership, Wild Apricot and Wicket (of course). These platforms all support the membership features needed at an affordable price range.
Check out this membership management software Reddit post for honest discussions from others working in nonprofits.
What's the best membership management software for clubs?
With clubs ranging from gyms to hobbyist groups, there's a unique set of needs to consider.
If, for example, you're looking for software for a health club, we recommend you check out GymMaster or Gym Assist. These systems handle memberships along with Point of Sale and access control.
Hobbyists and other clubs should explore another set of software. If managing memberships is all you need, something like Wild Apricot association management software might suffice.
What's the best membership management software for healthcare?
Healthcare associations share similar needs with trade and professional associations. Often healthcare associations need a set of rules or eligibility for members they accept. They may also need to sell insurance. It's vital to confirm the systems you're evaluating can support this.
Wicket, of course, is a good choice for Healthcare associations. Depending on your needs, you may want to explore a complex system like iMis or Aptify. If your needs are relatively simple, you can explore the lower-cost AMS systems mentioned above.
What's the best realtor association management software?
Realtor associations share common needs with many other professional associations. They need to manage and engage with members daily. For this reason, many AMS systems will work.
Several Wicket customers are realtor associations. Any of the AMS platforms mentioned above would also work for realtor associations. The complexity of your needs and budget will determine which platform is right for you.
What's the best association management software for small businesses?
Small businesses looking for a platform like this should look at club management software. Often those platforms will cater to your needs. Depending on the small business, AMSs might provide value. It's likely, however, that club management software will better suit your budget and requirements.
What's the best association management software for HOAs?
For HOA managers, the time commitment is a challenge. Choosing the right tools to automate tasks can greatly reduce that burden.
While an AMS may serve some of your needs, there is purpose-built software for you. Consider platforms like AppFolio, AssociationVoice, or Buildium. To feel confident in your choice, follow our comparison criteria above.
What's the best association management software for societies?
Societies share a lot of the same software needs associations have. Several of Wicket's customers are societies. You should also explore the other AMSs mentioned above. The right tool for you will depend entirely on your needs and budget.
***
AMS systems help organizations manage and organize their members. They can help streamline processes, improve the member experience, and reduce administrative burdens. When evaluating software, it's important to start from the ground up. Identify and prioritize your needs. That way, you'll feel empowered to drive the conversation when you're in demos. The right system will help your organization reach new heights. Finding the right one is a worthwhile challenge.
Looking for more help? Download our free checklist for choosing member management software.
---