The Value in Saying Yes, and Art in Saying No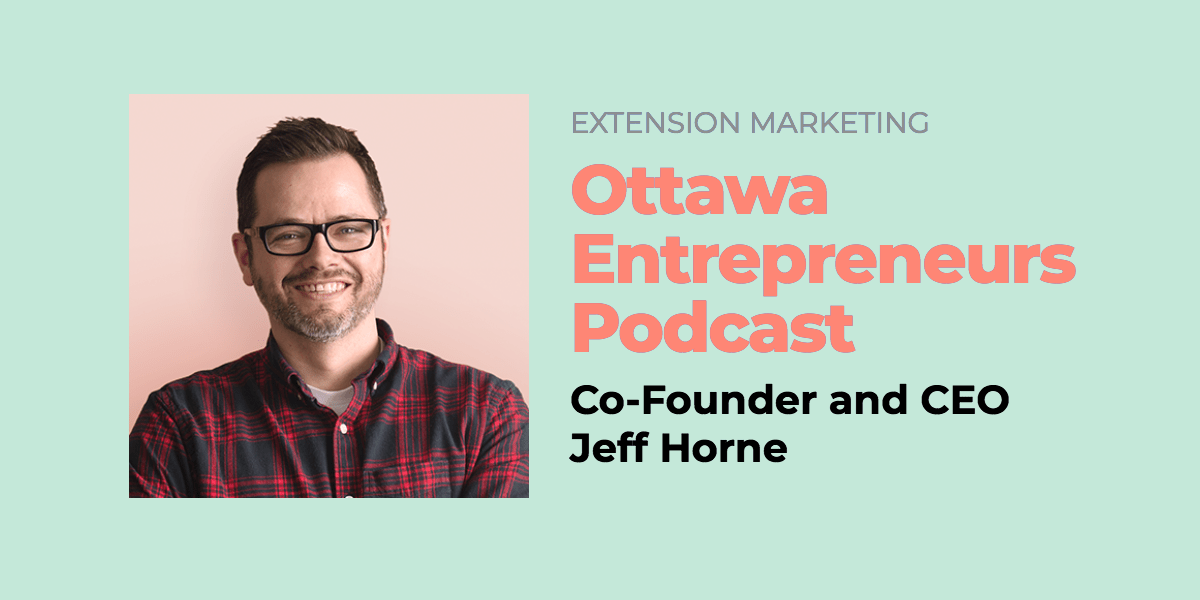 Extension Marketing is a marketing agency that specializes in the unique needs of small to medium sized businesses. Their CEO, Pat Whalen hosts a podcast called Ottawa Entrepreneurs – where they discuss the challenging journeys entrepreneurs face in their story to success. Yesterday Extension Marketing released an episode of their Podcast featuring Wicket's very own Co-Founder and CEO, Jeff Horne.
What will you learn in the podcast?

Our Story
Jeff shares his story about how Wicket became the second business he's launched, after 20 years (and counting) within the association space. The story behind Wicket, in case you haven't yet heard from our team or Jeff himself, is that Wicket was truly born out of Jeff's deep understanding and passion for contributing to the success of the association sector – as part of their ecosystem.
Jeff's first business, Industrial is a digital agency, designing user-friendly website for associations. Industrial's success has been built from their keen focus in understanding the core business functions of associations (processing renewals, member portal, and content hub). Wicket – as a software product – enables associations to hold their member data in a platform that is built to integrate with third party tools. Wicket presents member data in one place as a clean, synchronized system.
The Problem we're Solving
What is Wicket's value?
We work for associations. The association sector, is one – and might we add a very large one – that people forget about. Associations contribute to our economic growth here in Ottawa. There are over 35,000 associations in North America, with many who are dissatisfied with their current member database.

Understanding associations and their core challenges is what we do. We built the product working with our customers (associations), seeing first hand the frustrations associations feel,"


Jeff Horne, Co-Founder and CEO.

To keep it brief, the association sector has been left behind when it comes to software development. Previously, the only software on the market for associations was an AMS (Association Management Software). The core purpose of the software is to process membership dues. Somewhere before the early 2000's AMS' decided they'd become an all-in-one technology stop shop, where modules for email marketing, web design, and content management among so many others would be served. The issue with this – as more focused, innovative software hit the market, these AMS' couldn't keep up. MailChimp dominates the email marketing space, Shopify for e-commerce, WordPress and Drupal for website management, and the list goes on.
Our Software
What does Wicket do?
Wicket is a platform which plugs-in and connects with all of these best-in-class tools, including other payment providers. This allows associations to use the software they need to scale. Our mission is to enable associations to understand who they're serving i.e. what do their members look like (age, sex, location), what are their interests (student, working professional, retiree), and most importantly what do they see value in (webinars, events, online communities, etc).

Jeff's Entrepreneurial Journey
How Jeff get to where he is?
Jeff talks a lot about how Wicket came to be at the beginning of Extension Marketing's Podcast Ottawa Entrepreneurs. What's really the incredible story about Jeff's journey as an entrepreneur is how he runs two (2) business; Wicket and Industrial. It's quite a balancing act, and one he does with our COO, Laura Mindorff with absolute grace. Our development team, at the time being Industrial's development team, was excited to build out Wicket as a product. Jeff was faced with the hurdle of separating Wicket from the company that bootstrapped it to where it is today: Industrial.


One (Wicket) couldn't have been built without the other (Industrial). A service based company's value is in their ability to say yes. When selling a product, you need to learn the art of saying no.

Those yes' came with a lot of work to figure out how to do that within the product.



Jeff Horne, Co-Founder and CEO, Wicket and CEO, Industrial
Wicket has grown into a successful and independent company, and we couldn't have done it without Jeff's determination to give associations a more modern solution for their member data. He's pushed Wicket forward from every side, developing and seeing through the product roadmap, facilitating growth within our team, and building out our ecosystem to best serve the association space.
---