From Someone Who Knows it Well, The Real Things That Make Work Great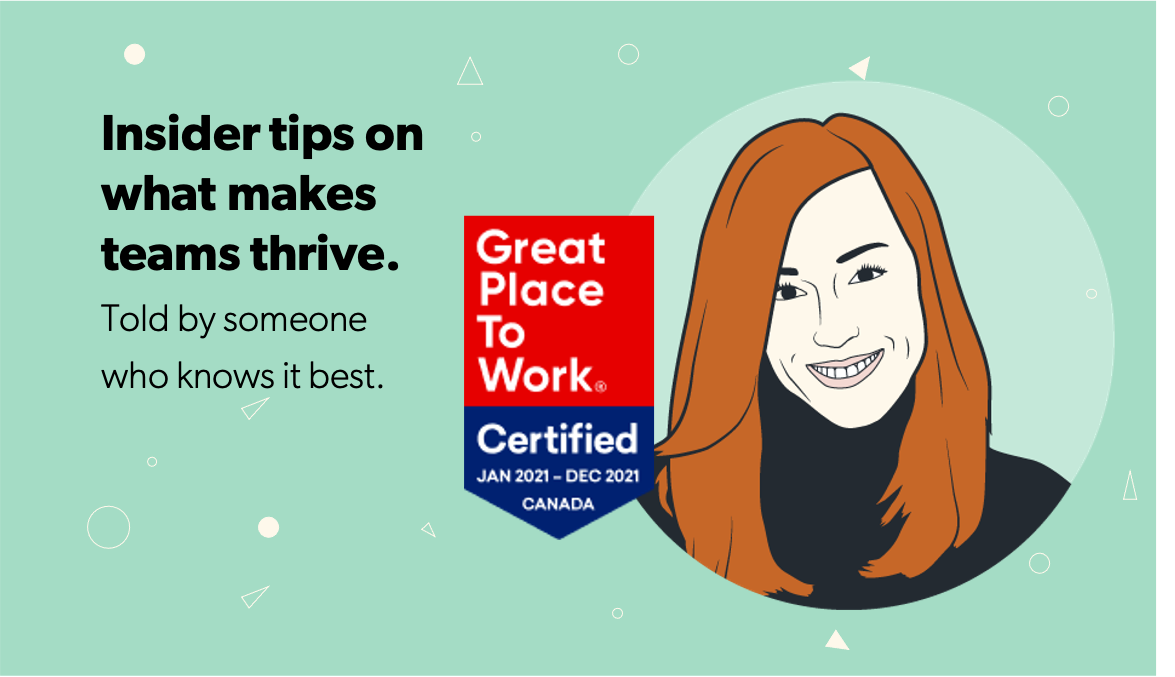 This year Wicket was officially certified as a great place to work. But let's be real for a second, what exactly does that mean? Are the jobs great? The people? The elusive "culture"? Above all else, a burning question, could it be more than just a certifying badge to put up on a Careers landing page?
For us, it needed to be more than that. Much, much more.
The truth is, being a great place to work doesn't really involve channeling money into luxurious perks (as much as the Silicon Valley grapevine would like us to think).
In fact, for Wicket, it's about staying connected to knowing what truly makes the employee experience phenomenal. Every person is driven by something unique to them and their workplace should not only be aware of what this is, but support it 100%. The real secret though: every great workplace has at least one key champion. A person, or group or people, who show up at work every day making sure the team feels like they're right where they're supposed to be.
Enter Laura Mindorff, COO and culture-maker of Wicket.

Pssst, don't have time to read the whole interview? No problem. Jump down for the key insights.

(This interview has been edited for clarity and length.)
Hey Laura, this concept of "workplace culture", in your opinion, what is it exactly?

Culture to me is defined by understanding what motivates your team then creating an environment that fosters these motivators to inspire and drive them to want to do their best work.
When I think about motivators, I remember reading about a study on job satisfaction that was conducted decades ago by psychologist Frederick Herzberg. The study showed that motivators include things like:
Involvement in decision making: Create committees that involve various team members and have them own certain decision making opportunities.
Recognition for achievement: Give instant feedback to people when you catch them doing something great or set up a Kudos Slack channel that fosters peer-to-peer recognition.
Meaningful and interesting work: Offer the opportunity for your team to take part in something that doesn't exactly fall within their typical day-to-day responsibilities and always show them the bigger picture behind why we're doing what we're doing.
Personal/career growth: Set up a budget for your team specifically around continued learning or encourage lunch and learns within the team.

When we acknowledge what these motivators are, what kind of impact can that make?
All of this matters because motivation is the precursor to feeling fulfilled in one's role. In turn, those effects echo across the organization from the employees' personal lives to the quality of product that gets pushed out to customers.
As an added benefit, by setting up different perks, rituals, values, rewards, and celebrations that all revolve around these motivators, you can create an even more compelling environment for the team.
For instance, let's explore the power of rituals. From a brain science perspective, rituals are hugely influential events.. Dr. Nick Hobson, founder of the brain science consultancy The Behaviorist says that, "when we do these things, our brains say on an unconscious level, 'I don't know why this is important, but all I know is that it is important, so I'm going to attach more meaning to it'".
Chances are, if you can successfully understand motivators and create moments of celebration that inspire them, then you will have a successful workplace culture.

How does an organization shape and develop its culture?
First off, I would say that "developing culture" happens whether you are intending for it to happen or not. Every workplace has a culture, good or bad. And culture isn't something that is formed or dictated overnight. Culture is the result of several initiatives and consistent behaviours that are encouraged and rewarded, but ultimately it comes from the top.
From experience, I recommend starting with a very clear definition of your company's mission, vision and values. This is really the north star of your overall culture program.
For your company's mission, think about the core of why you exist; your belief in what can be changed for the better. Wicket's mission is:
We believe that associations deserve world-class software to deliver their valuable mandates to the professions and industries they serve. Wicket is transforming how associations impact society by empowering them with the world's first Member Data Platform (MDP)
For your company's vision, think about the future state of what the world looks like now that your mission has come to fruition. Wicket's vision is:
A new soware market exists called Member Data Platforms (MDPs). Wicket is the trailblazer, market leader, and the example for which all other MDPs base their solution. Associations are thriving by leveraging a persistent, unified and accessible member record to deliver their mandates.
For your company's values, think about how each team member should engage with each other and the business to succeed on the vision. One of Wicket's eight values is:
Speak up, we're listening. We're deliberate about creating a safe space for giving and receiving feedback; open communication is critical to our success

I think most people would describe their ideal job as "interesting, challenging, and meaningful". How do the people at work help make that come true?
It's actually a good point to make that part of having an interesting, challenging and meaningful job is also the responsibility of the employee and shouldn't solely rest on the company. You will know when you are in a company that fosters good culture. The rest is up to the employee to:
Take advantage of the perks being offered
Bring forward new and fresh ideas
Continue to learn through books, courses, webinars, conferences, etc.
Help recruit more people who want to make their company a better place
Actively participate in team building activities
Be open to change

Since remote work is our new standard these days, can tools play a strong role in fostering team development?

I do believe that good software is one component to fostering healthy team development (it also helps that we work in a tech company, since most of us enjoy trying out new tools and technologies).
Some of the tools we have used that are specific to our culture are:

Any other notable team activities you would recommend? Especially when workers are ready to return back to the office?
We take our Scrum ceremonies pretty seriously at Wicket. Our CTO, Rob Villeneuve is very versed in the world of Agile and brings a lot of structure and passion to our rituals. Having consistent and purposeful ceremonies that are driven to increase trust, efficiency, feedback and forward moving progress, are keys to our team's success:
Daily standups: Full team report on what your goals were yesterday, what your goals are today, and if anything is blocking your progress.
Bi-weekly demonstrations: Time to geek out and show us what you've been working on the last couple of weeks.
Quarterly company retrospectives: Dedicated time to reflect on what went well, what didn't go well and how can we make things better moving forward.

How do you know when you're on track to building a great workplace?
The way I've always been able to describe a positive workplace culture (and it's a bit tougher to tell in a virtual setting), is that your employees behave the same way when the "boss" or "owner" is in the room, as they do when the boss or owner isn't.
When people feel like they can continue to be themselves and not have to sit up a little straighter, so to speak, when they feel they are being "watched", then you've fostered a culture of trust and openness.
Oh also, getting certified as a Great Place to Work is a really good indicator that you are on the right track 😉

Only have a few minutes? Here are the key insights from the interview:

Understand what motivates. Build a positive culture by first understanding what motivates your team. Create an environment that fosters these motivators to inspire and drive your team to want to do their best work.

Don't skip the celebration. When great work happens, reinforce it through perks, rewards, rituals, and celebrations. Moments that go unnoticed may go unrepeated.

We all have a role to play. Culture may come initially from the top down but every team member still has the responsibility to contribute to it. Be an active participant, stay open to change, and bring fresh ideas forward.

Tools and activities go a long way. Don't just say how you want your organization to be, live it out. Sporadic trivia, nerdy competitions, and show and tells all foster a collaborative and healthy workplace.

You'll know when everyone can be themselves. Work is just another area where we spend our waking hours. Needing to put on a front or always be "on stage" is tiresome. A great culture lets people be who they are: complex, whimsical, wonderful, and everything in between.
---