How experts are choosing their e-commerce solutions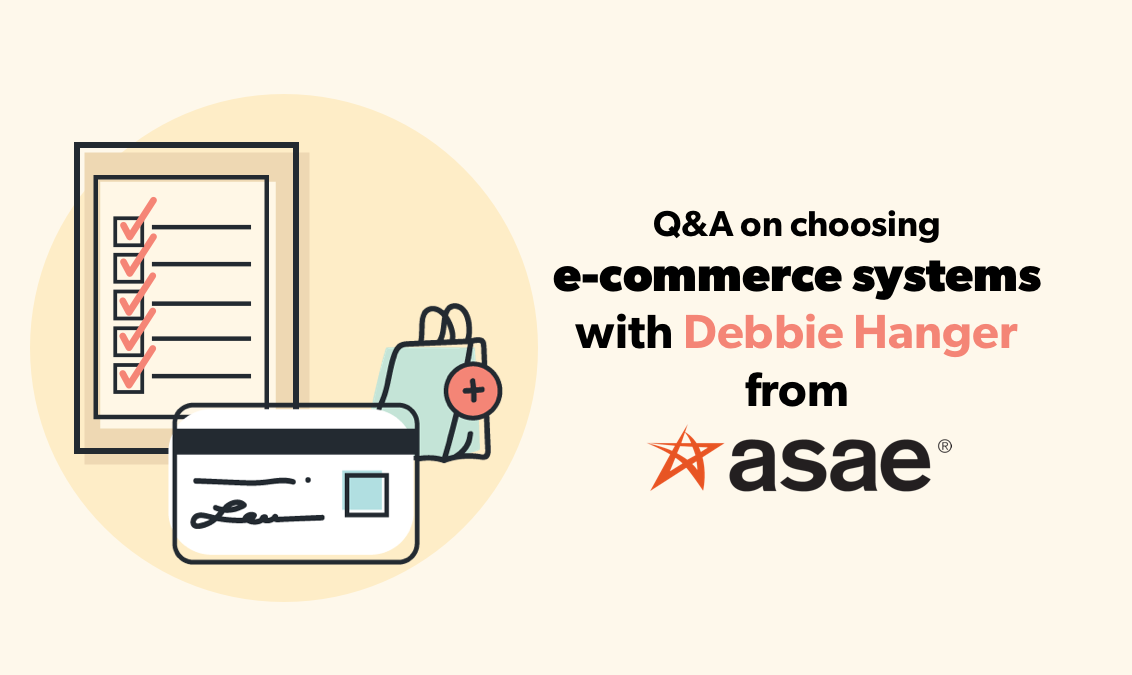 These days, everyone and their grandma seems to run (or at least, be subscribers of) an ecommerce business. If you're an association that's not in the business of software, you're still in the business of making sales digitally – that is, if you're meeting today's service expectations.
While you can opt to build an ecommerce solution in-house, there is a better way.

Going through the process now first-hand, Debbie Hanger (Senior Director of Database Administration at ASAE) is looking for an e-commerce tool to support 48,000 association executives and industry partners representing 7,400 organizations. Her journey so far? Full of teachable moments we're lucky enough to have the opportunity to sit down and gather.
In this interview, you can learn more about:
How to narrow down from a sea of options and be respectful of everyone's time
The beauty of a demo script and how to get your hands on one
Surprising features that you wouldn't think you'd need, but (probably) can't live without
(This interview has been edited for clarity and length.)
---

Why should associations start to think about using e-commerce platforms? What sort of benefits can they bring?
A lot of associations are so used to using AMS systems that try to do everything for them. But now with the shift in technology, we have APIs that allow you to look into best-of-breed solutions that are taking over the market right now. They're so easy to use and can help you streamline your purchasing process.
Dedicated e-commerce solutions have templates so you can easily set up professional-looking websites and get them up and running in just a week or so. A lot of these commerce solutions also provide hosting. Often, they give you large bandwidths, vast servers, and promise a 99% uptime. It can really help you to offload some of that capacity for your organization, especially capacity that you might not have been able to provide on your own.
The other thing is that a lot of associations want to have mobile products. Many of these commerce solutions are mobile-first and they're responsively designed. Plus, they have third-party apps already built into them, some with inherent integrations with off-the-shelf accounting systems and with companies like UPS or FedEx to get shipping tasks automated.
In general, it's good to consider e-commerce platforms because of all the features that are available out-of-the-box, rather than having to custom build it or hope that your AMS has those functionalities built-in.
For associations that are just starting their search, are there certain things they should be looking for or mindful of?
There are probably over a hundred solutions out there. When we started down this path, we did our research, read some articles, and tried to narrow down from there to see what our top handful was. Once you get your requirements, it's easier to figure out. Of course, they need to have an open API. They also need to let you do the basics like easily manage customer profiles, orders, backorders, inventory, things like that.
They should also offer flexible pricing to let you perform pricing segmentation, as well as discounts. Cross-selling and upselling is important to have ready-to-use, out-of-the-box. In terms of payments, they usually offer in-house payment processing or third-party processing like Apple Pay or Paypal. See what's right for you, but remember that cost will be a factor there.

Another thing to keep in mind is security. Check if they're PCI compliant and that they're SSL protected so that your data stays encrypted. If they're in a hosted environment, understand what their backup and disaster recovery strategy looks to see if it suits your needs.

Those are probably the key things worth looking into and that you'll uncover when you go through demos.
Speaking of demos, do you have any tips there on how to approach them thoughtfully to get the most out of them?
Originally, when we started our search, we would send out a requirements list to the vendors so that they could tailor their demos to us, but we discovered the demos we watched were all over the place and made it really hard to compare the vendors head-on.
We ended up taking a step back and coming up with a demo script for our vendors so that they could perform all the same tasks to make it easier to compare apples to apples.
Doing that up front I think could have saved all of us some time so that'd be one of my recommendations. For associations going through the same process, we've actually published the script online so that they can use it for demos they have.
What teams should be involved when you consider new e-commerce platforms, what roles do they play?
I guess every organization is going to take a different approach here. When we approached it, our core group was more of the technology mindset so our first pass was through that lens. We looked at a number of solutions from security, usability, and functionality perspective just to make sure they checked off all those boxes. Then we whittled it down to just a handful of solutions. Now we're looking to bring in our end-users, like our marketing and finance team, to help evaluate those systems and to get their input as well.
That was our two-phased approach because we wanted to be mindful of everybody's time, but other organizations might just have one big dedicated team to do all of those tasks.
What are some things to look for to decide if your current e-commerce solution is working for you or not? Is there a right time to switch?
I would say take a look at your current solution and the vendor you're working with and ask yourself if they're staying current with technology and compliance standards. That's the first step and it's an easy one because if they're not, then it's time to move on.
If you find yourself wanting more features but are in the position of needing to build it all out yourself, now is probably a good time to pause. See whether that's going to be more cost-efficient than going with a new system that's already done all the heavy lifting.
The other thing is that we're in an interesting time right now. Because of the pandemic, all of a sudden we've all had to shift. If your technology was behind, it made it that much more difficult to operate. So we all have to think about whether we're able to meet our customer's needs digitally, as well as for the future. Think about where you want to be in three to five years and whether your current technology stack is going to meet that.
Do you have any advice for associations looking to improve their members' experience when using ecommerce tools?

Modern associations looking to have a presence on social platforms can really benefit here from the right commerce solutions. Especially from a fundraising perspective, it makes it easy to tie donations back into a single system. You can really reach new audiences on these other channels. That was not something we went in looking for, but something I think that we're really pleasantly surprised with.
Several third-party integrations that we didn't have in our requirements existed in some of the commerce demos we saw. For example, some tools have integrations with Amazon, Facebook, and Instagram so you can actually sell your products with just a switch. That was interesting for us to see.
What are your thoughts on associations using subscription-based pricing rather than yearly membership pricing?
I think this is a really interesting model because there are so many for-profit organizations that do the subscription model now, and it's very different compared to where the association membership model is and has been.
In today's world, sometimes people just want to do that month-to-month and have the ability to go into their profile and either turn it on or off. That's what customers are used to now and it's also really easy to set up self-servicing with today's commerce solutions.
I don't know if the association community is there yet, but the interest is. Some members might not want the magazine, but do want an LMS (learning management system) subscription. It's the à la carte model they're interested in, to have some choice over pricing.
---
Debbie Hanger is the Senior Director of Database Administration for the American Society of Association Executives. ASEA is the essential organization for association management, dedicated to helping association professionals achieve previously unimaginable levels of performance.
---
---