The Ultimate List of Software for Association Websites (Updated 2022)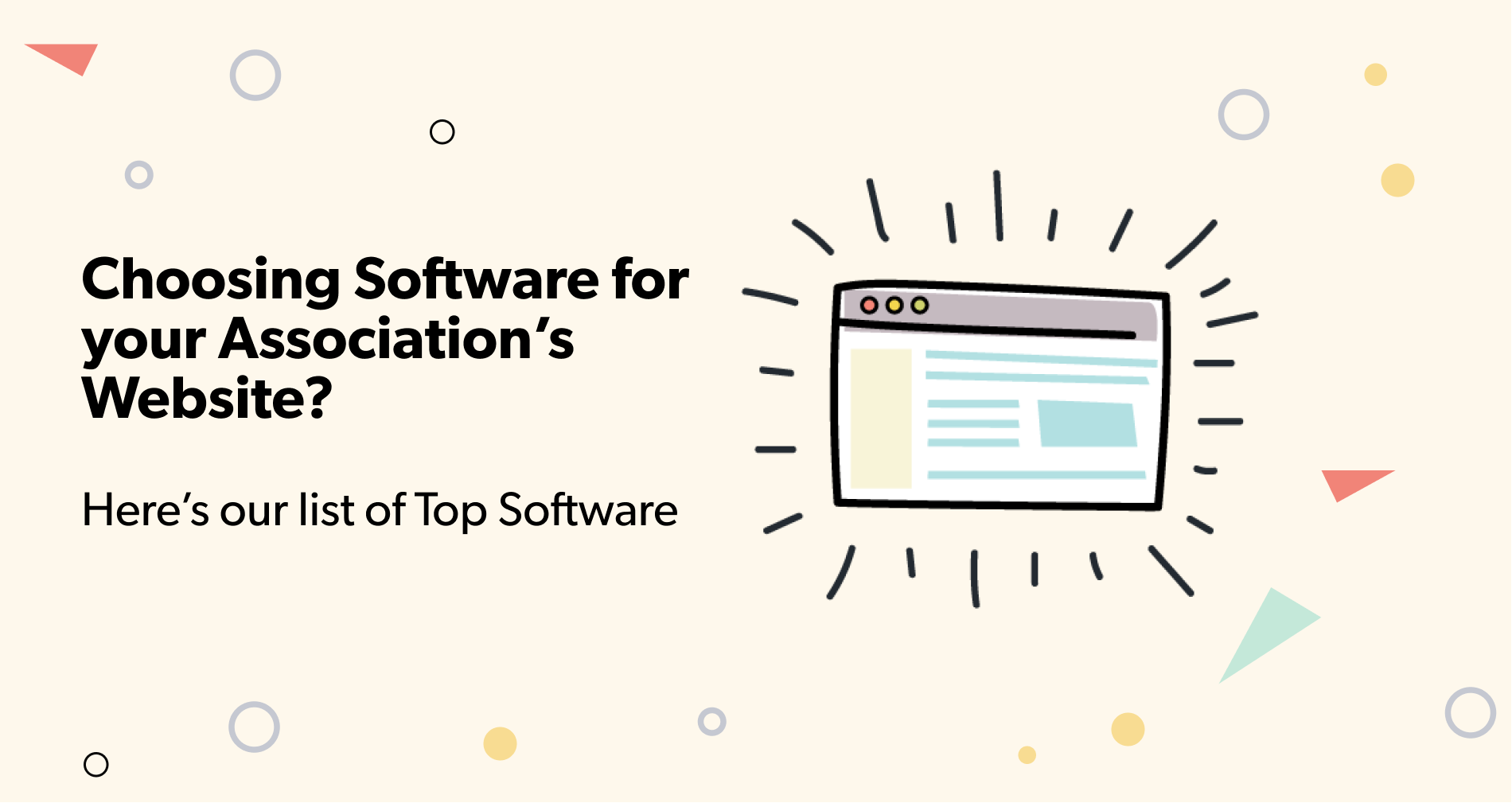 One size does not fit all for association software.
Traditional Association Management Software (AMS) is an all-in-one solution. Integrating wasn't possible when most of these systems came on the market twenty years ago. They had no choice but to build everything in one tool. 
The problem we see today is that AMS doesn't stack up to best-in-class software specializing in one offering. The features in their modules only scratch the surface of what you need.
The next problem is data silos. Many organizations, realizing better tools are available, have branched The next problem is data silos. Many organizations, realizing better tools are available, have branched out. For example, they may use Mailchimp for email campaigns because it's more powerful than the module in their AMS. Now your data in Mailchimp is separate from your larger member database.  
That's why integrations are essential. You should be free to use the best tools without compromising the quality of your data.
Ok, but what's an integration?
Simply put, integrations connect different software platforms. An integration makes it possible to share data between different systems with no manual intervention.
Let's look at an example. Imagine your event management platform integrates with your member management platform. Now, single sign-on (SSO) becomes a possibility. Your member can now use one username and password to log in to all of your integrated systems. Next, imagine your member updates their mailing address in the event platform. You'll see the update appear immediately in your member management platform.
Integrations ensure that your member data is always up-to-date across the different platforms you use.
Where do you start?
Going from an all-in-one solution to a suite of top-notch software can feel overwhelming. How do you know what tools work best for associations? Where should you start looking?
Let's make it easier for you. We integrate with dozens of tools; we know what works and what doesn't. While every association is different, we've noticed that some key tools tend to work for most organizations.
Here's our list of software for associations we see working for most member-based organizations. 
WooCommerce for billing and e-commerce
Built on WordPress, WooCommerce is a secure, e-commerce platform. Because it can process all your organization's transactions, it can improve the efficiency of members and staff. You can sell memberships, products and services from one e-commerce store.
With this unified shopping cart, you can process:
Memberships (including recurring transactions)
Subscriptions (including journals, magazines, and newsletters)
Donations
Publications (both physical and digital)
Courses and other types of education
Events
Bookings
Sponsorships
WooCommerce is configurable to your needs. With this flexibility, you can sell memberships with rules and eligibility criteria. You can set memberships to renew weekly, monthly or yearly, depending on your needs. You can also configure payment and shipping options.
A unified shopping cart presents your organization with new opportunities for revenue generation. You can now upsell or cross-sell products and services. For example, a person can pay for an event, a book and membership in one payment. It's more convenient for those buying, resulting in more revenue for your organization.
WooCommerce provides powerful back-office tools to make life easier for your staff. Handling promotions, refunds, and adding new products are straightforward tasks with WooCommcere.
Wicket integrates with WooCommerce. When a membership is purchased, the person's membership status and profile details will appear in Wicket. Now you can come into Wicket and see who your members are. Wicket will also communicate those details and membership status with other connected tools.
WordPress for your website
WordPress is the most popular website Content Management System (CMS). Managing your website is easy with its intuitive editor and range of plug-ins. Because it's such a popular platform, your team will easily find resources and tutorials online. There's also a large freelancer network supporting WordPress. Getting extra help is never a challenge.
WordPress is powerful on its own. But when WordPress integrates with Wicket, your website can become a member engagement hub. Members will visit your website to access events, online learning, and online communities. With the tools connected the member experience is quit user-friendly. Members won't notice you using different platforms.    
A huge benefit to using Wicket and WordPress is SSO. Your members can use one username and password to log in everywhere. You can put an account centre on your website connected directly to Wicket. When members enter the account centre to update their information, those updates immediately appear in Wicket. In turn, Wicket will send those updates to all other connected platforms.
Acumen by Association Analytics for Business Intelligence
Association Analytics helps organizations make sense of their member data. Their platform, Acumen, is best-in-class for data analytics and business intelligence (BI).
In Acumen, you can view forecasts and historical trends, clearly showing your association's performance.
With restricted roles, each team member will only see the data that makes the most sense. Marketers, event coordinators, and executives only see what's relevant.
With robust drill-down and filtering features, you can also understand your members by their types, geography and interests. Personalizing content meaningfully is only possible when you truly understand your members.
While Wicket collects and maintains data from integrated tools, Acumen is there to make sense of that data. Wicket can feed data into Acumen, giving you a clear picture of who your members are.
Mailchimp for email
Mailchimp is one of the top email platforms. It's easy to use and can help take your member communications strategy to the next level. Go beyond sending emails. You can start talking to your members with segmentation and behavioural targeting tools.
When integrated with Wicket, managing your audience is easier. A new person added to Wicket is automatically added to Mailchimp. Wicket sends relevant data, like membership tiers and member status, to Mailchimp. Then when the person is sent or opens an email communication, you'll see that data appear in Wicket as a Touchpoint. You'll see this data when you visit that person's profile in Wicket. 
Higher Logic for an online community
Higher Logic is an online community platform. Members can log in, connect in discussions, and share resources. It's a great way to boost member engagement.
Do you have special interest groups within your membership? No problem. You can create private discussions and resources that only specific people can access. When you integrate Higher Logic with Wicket, managing private forums is easy. When you set up groups in Wicket, Higher Logic will automatically inherit these as security groups.You can then restrict discussions to specific security groups.
Activities in Higher Logic are sent back to Wicket as Touchpoints. You can see how active someone is in discussion while looking at their activity across your other platforms.
As with most Wicket integrations, SSO is available. Members will use the same username and password they use everywhere else to log in to Higher Logic.
Finally, you'll need something to hold it all together.
Of course, to use these great tools, you'll need something to connect them all. That's where a Member Data Platform (MDP), like Wicket, comes in. Because an MDP will integrate with all of these different systems, your data will be fully in sync. When a member changes their data in one system, it's pushed to the MDP. The MDP, in turn, will send that update to other connected tools.
All of your members' actions are written back to your MDP. When staff view a person's profile in the MDP, they'll see all the times a member has interacted across these systems. Think of the MDP as your CRM, the single source of truth for all member data.
We believe you should be able to use the best software for associations without the downside of data silos. That's why we integrate, not recreate.
---